Energy Saving Rate 36.03%! How to Reduce Energy Consumption of 3250t/d Landfill Leachate Treatment?
Treatment of landfill leachate, a highly concentrated organic wastewater with complicated components, is hard and energy-consuming.
Eastern Guangzhou solid resource regeneration center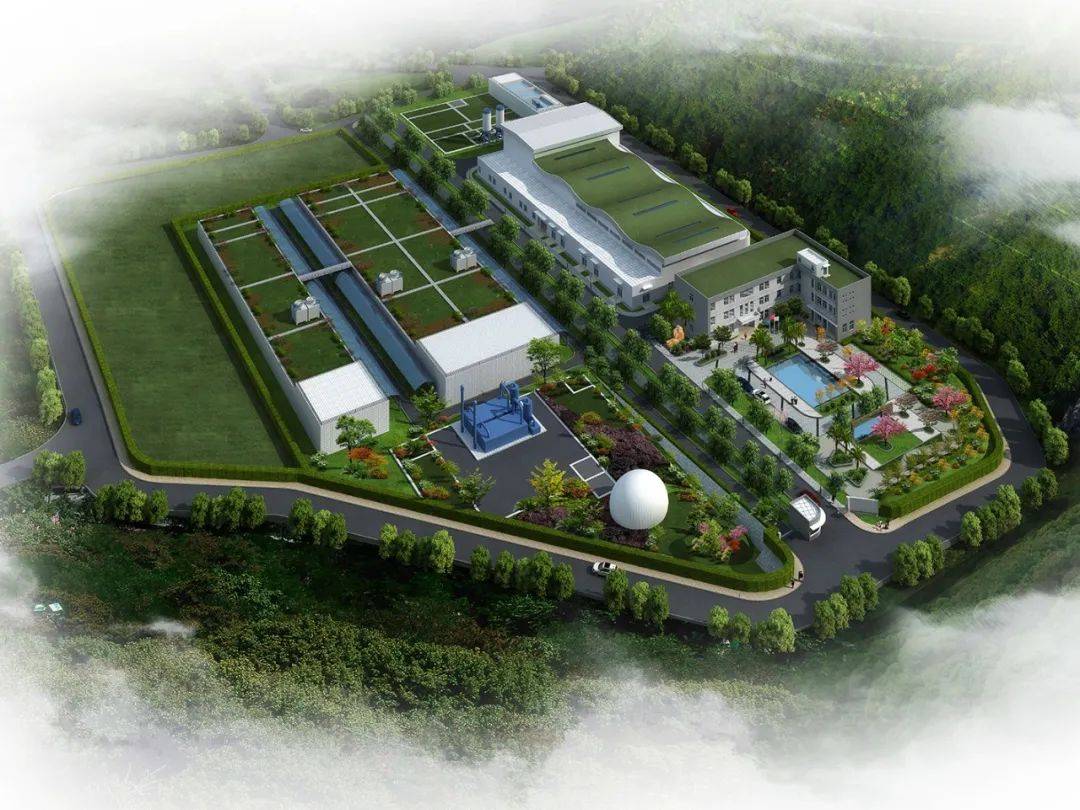 Project Profile
Eastern Guangzhou solid resource regeneration center (Luogang Fushan Circular Economy Industrial Park) sewage treatment project phase one mainly deals with landfill leachate from garbage incineration generation plant, with a daily capability of 3250 tons, thus no sewage would be discharged.
Project Requirements
Lower energy consumption
Under the premise of ensuring working effect, the project put forward stricter requirements on energy-saving and cost-reducing performance of the aeration blower to save energy and cost of leachate treatment.
Not affected by leachate quality and quantity
The quality and quantity of the leachate vary with the season, therefore, the blower should not be affected by leachate quality and quantity.
Lower noise
Too much noise from various equipment is generated amid the leachate treatment processes, for which, noise reduction measures shall be taken to lower the noise to a level that meet the requirements of relevant standards.
Lower maintenance cost
The blower, to reduce cost, shall feature easy installation, easy operation, and easy maintenance.
Anti-corrosion
Leachate is distinguished by complex constituent and strong corrosivity; the blower must have good corrosion resistance performance which will affect the working effect and its service life.
Solutions
The project has three production lines and in each of which there are three roots blowers, two of which will be opened during operation and the other one will be a backup.
ESURGING designed and manufactured a tailored YG300 maglev turbo blower to serve the customer, taking the leachate treatment requirements on the blower aeration system into full consideration, combing features of eastern Guangzhou solid resource regeneration center, and on the basis of four core technologies with completely independent intellectual property: remove one roots blower, install one ESURGING YG300 maglev turbo blower in each line, and the other two blowers in each line are backup.
After reconstruction, running one YG300 ESURGING maglev turbo blower in each line can meet the operation requirements.
ESURGING maglev turbo blowers, applied in phase one of eastern Guangdong solid resource regeneration center, adopt four core technologies such as magnetic bearing technology, high-speed PM motor technology, high-frequency vector type inverter technology, and high-efficiency fluid machinery technology. They are distinguished by high efficiency, energy conservation, stability and reliability.
Magnetic bearing technology applies five-degree freedom active bearing, intelligently controls the rotor position, and ensures no friction between rotating parts and no oil. A high-speed PM motor directly drives the three-dimensional flow impeller, eliminating the gearbox, improving transmission efficiency and remarkably saving energy.
The blower is controlled by an inverter that could adjust the airflow according to the actual needs to respond to the change of quality and quantity of sewage, thus ensuring the blower runs highly efficiently and stably.
The blower, equipped with auto balance technology and active vibration reduction design, is with noise lower than 80dB(A).
Measures have been taken to make the blower corrosion-resistant: the military-quality control components are coated with anti-corrosion coating; the exposed copper wires are tinned; special anticorrosion treatment has been done to components such as impeller, volute, and so forth.
The blower could greatly save cost for installation and maintenance since it is distinguished by housed structure, unattended, free maintenance and only filters need to be changed.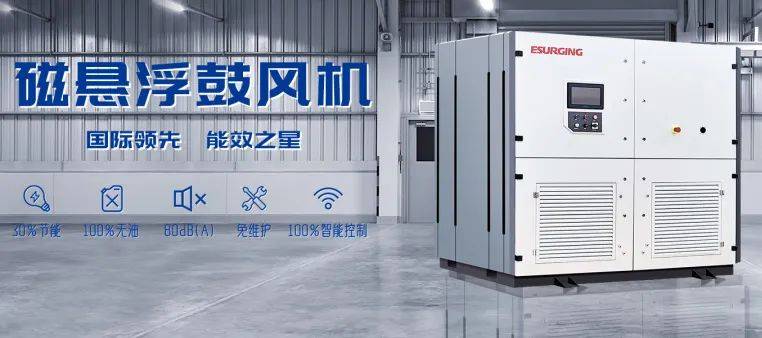 Effects
ESURGING maglev turbo blowers are highly recognized by the customer by virtue of their significant energy saving rate of up to 36.03%, ability to respond to water quality fluctuation, stable flow, low noise, free maintenance, and anticorrosion, which enable the leachate treatment system to operate highly efficiently and stably.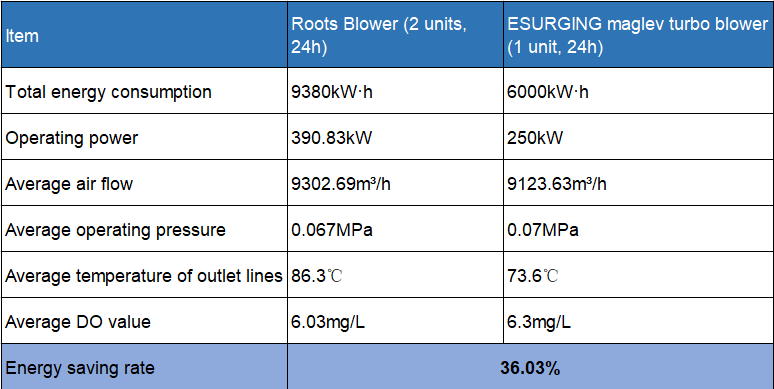 ESURGING maglev turbo blowers are widely used in the leachate treatment of incinerators, landfills, and kitchen dumps with a daily landfill leachate treatment capacity of over 80 thousand tons and are directed to realize accurate aeration while significantly saving energy and reducing cost.